Just a quick little update before I get back to some paperwork at work...

Preview tonight!

Our last tech rehearsal went fairly well. Phil somehow found a way to mute his microphone halfway through the show and then "escaped" from his cell and ran up to the booth where Matt fixed him.

And a bottle was not preset. Whoops.

But other than that, it went really smooth and I'd say we're ready to have some audience!

And Taylor's confession for the night:

"Manhandler is a 15 inch dildo with a handle. Looks like a sword. Zak can take it. Caril"

And now that I think about it, every person in the cast has to read this on stage. That's hilarious.

Alright back to work.

-Trish
Posted by

Trisha Bakula
at 11:55 PM
0 comments
We only have one more day until our preview and things are feeling very good. We've added all elements now and the cast has adjusted beautifully. The band sounds fantastic and the music is getting tighter and tighter every night. It's amazing.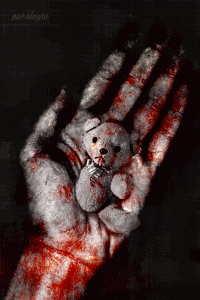 I've started to run the board. (No more line notes!) Rock musicals are always so much fun to run. The cues feel different. It's more... and I know I keep saying this about this show... but it feels like there is more emotion behind them. In this show especially, we're going from different locations and the timing with the music - it just looks pretty.

I've started my midnights shifts (Thanks to the coworkers who have switched me so that I was able to do the show) and my body has miraculously gotten used to the night schedule. I have a lot more energy for the show now, which is great. This is probably because I get to sleep as long as I want without waking up with an alarm clock and by the time I get to the theatre I'm all refreshed. I love being nocturnal.

But everything has come together. I've screwed up a couple times during the past couple runs but they're the kind of screw ups that you make once and never make again. And isn't that the point of tech rehearsals? One time, a cue was written to go after Zak's song was over... and when it was executed, the lights changed, leaving Zak in complete darkness to say, "It's time."

Giggling ensued.

This is one crazy cast. Since the beginning, they've tried everything to make each other crack up. The following are confessions (the typed up confession that Merle gives Charlie to have him sign) written by cast members and then given to Phil who has to read it (to himself) during a scene:

"I the undersigned, do admit to flagrant biting of childrens' buttocks. I furthermore did pinch the taints of a passing circus performer and his monkey, Ruprecht. While eating a penis-shaped cake on a roller coaster. And I raped a dog, but she wanted it so bad. C. Starkweather"

"I, the undersigned, totally love George Michael. I am gay for his hairy, British nads. Also, I love Judge Judy. She is the woman I wish I could be. I want a black robe with a doily around the collar. Sincerely gaily, Chuck"

Now, those are just the rehearsal confessions. Unfortunately for the run, we've typed up a fake confession for Charlie to look at every night. And it's nothing obscene or funny... Well, it might be. Scott typed it up.

And then every night, Caril has to write her confession. With her permission, I get to post these as well:

"Dear Merle, Gertrude told me she fakes it every time. Ouch. Caril"

"When I was small, I thought condoms were made out of tire rubber. Think about it. Caril"

"Did you see when I fell backwards into my cot? I feel drunk. That is all. Caril"

"Lipstick is red, it comes in a tube, Gertrude pegs Merle, without any lube, cuz we lesbians! Caril" (Although, I think it originally said "me" and not Merle)

God, I love this cast. Stay tuned for more.

And seriously. Come see this show.

-Trish

Photo from Here
Posted by

Trisha Bakula
at 3:13 AM
2 comments
We only have a couple weeks left and the show is really starting to take shape. Mike has started to join us, playing along with Scott. The keyboard, even with the guitar patch, still sounds like a keyboard... To me, at least.


Mike and I were talking about the difference of the two instruments. The keyboard is so final... It's beautiful but you hit the key and then hit another key. The guitar is a much more flowing instrument. You strum. It's very emotional.

I'm not sure how else to explain it. I feel so scattered right now. Lot's of stuff going on.

I'm trying to get props together. I need to do this soon but lately I feel like I haven't had a minute to think.

I've started the first wave of line notes. The actors took them and corrected a majority of them. I can't tell if I hate line notes or love them. Maybe it's more of a love hate thing...

Anyway, I have to get going. This post wasn't as long or as profound as I wanted it to be. Ah, well. Maybe next time.

-Trish
Posted by

Trisha Bakula
at 10:59 AM
0 comments
We've started to run the show in full now. Blocking is all done. The show is done in one act with no intermission so rehearsals have been moving pretty quickly.


One thing I have noticed with the smaller cast is that they often forget some of their blocking... Not a big deal (yet). And I think it's because there are only four of them and rarely is there a scene with all four of them. I think when you have a bigger cast, the actors are able to play off each other more, it's easier to remember what to do.

The blocking for this show is so intimate and although Scott has set specific blocking in some places, a lot of it is constantly changing as the actors tweak themselves and get a better understanding of everything going on around them.

This cast is doing amazing with lines. I'm not sure if it's the style or structure of the script or maybe that they are working their asses off when they aren't at rehearsals but their dedication is really showing.

Maybe it's just that they are all working so hard to get it memorized so that they can start to dive deeper into the scripts emotions. A difficult journey they all have started on. I already know this is going to be one powerful show.

I'm just speculating... I'm the stage manager. I've been observing. :0)

I haven't touched the props list yet. All I've done is think about them; maybe a little research online.

I had to update since Scott sent me a not-so-subliminal, friendly, message asking how I was but had worked in the word "blog" between every sentence. It was hilarious.

And so, I have updated. More later!

-Trish

Photo from here
Posted by

Trisha Bakula
at 6:49 AM
1 comments